Euromold International Show Decenber 5th to the 8th 2007
OneCNC Deutchland attended this show to demonstrate the OneCNCXr2 range of products. A very busy show and in attendance was Uwe OneCNC Germany, Stephan OneCNC Germany, Sebastian OneCNC Poland, Allan OneCNC Denmark and Bob OneCNC Australia.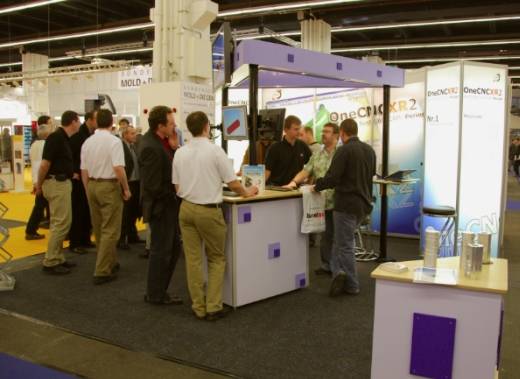 The 14th edition of EuroMold, the world fair for mould making and tooling, design, and application development, was pronounced successful by the exhibition management organization DEMAT GmbH. EuroMold 2007 attracted 61,720 industry visitors from 83 countries to Frankfurt. The visitor turnout represented a 2.1% increase over the 2006 attendance.
Embodying the conceptual slogan "From Design to Prototyping to Series Production," EuroMold again presented the full industrial process chain, showcasing exhibitors from all the relevant industrial sectors. Fair attendees could discuss the realization of an idea with designers, the optimization of process flow and possible cost reductions with simulation experts, and the advantages and disadvantages of various material choices with specialists in materials supply.
Every day was busy for all demonstrating continulusly throughout the show.
Here we see Uwe OneCNC Germany (left) demonstrating OneCNCXR2 to a customer.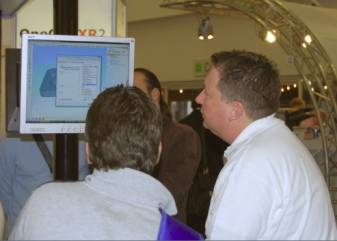 Euromold being a specialist mold show brings many users directly interested in mold manufacture and OneCNC is fortunate to have experienced staff on hand.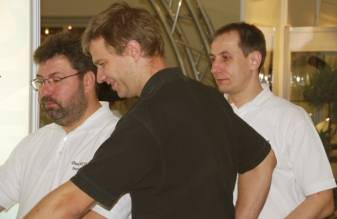 Here Stepan OneCNC Germany (left) demonstrating the product to Thomas (middle) a long time customer and user of OneCNC in Germany. Sebastian OneCNC Poland eagerly looks on to sse what is being shown to such an experienced user.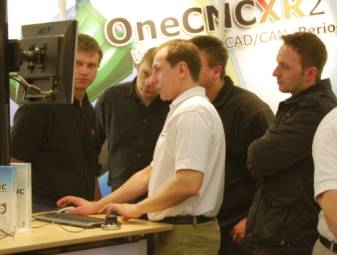 Here we see Sebastian OneCNC Poland demonstrating OneCNC to a group of prospective users. Sebastian speaks he first language Polish but is also fluent in Germany allowing a broad range of communication skills in demonstrating and supporting OneCNC Products.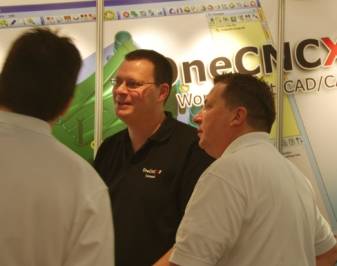 Allan OneCNC Denmark (second from right) showing his experiences in OneCNC to Uwe OneCNC Germany (left}. Allan has many years of practical experience in the industry and an accomplished 5 axis designer programmer and CNC machinist.
OneCNC Is fortunate to have such a depth of experienced engineers.