Düsseldorf, 24. February 2018 METAV 2018 – the 20th International Exhibition for Metalworking Technologies ended today after five eventful days. This was a very good show for OneCNC the quality of the customers was encouragingly high and we have succeeded in selling our OneCNC software too - this is how Bob Francis, Managing Director of OneCNC group summarised the event. Uve Vieregge,Geschäftsführer at OneCNC Deutschland had even more impressive news to report on how good the sales volume and potential leads from the successful show were.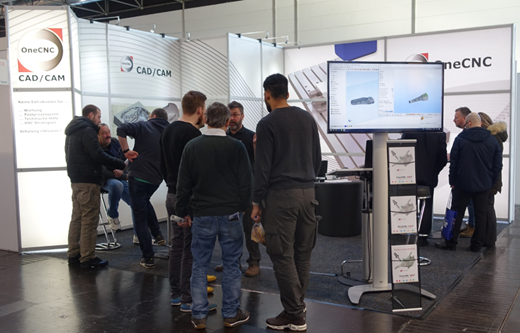 If you were unable to attend for a personalized demonstration of the OneCNC CAD CAM Solutions we remind you that on-line demonstrations can be arranged at a convenient time so that you can evaluate first hand without leaving your shop.
OneCNC Deutschland offers on-site training in your shop manufacturing your parts.
For Further Information Contact >> OneCNC Deutschland