EMO Hannover 2005
Sep 26 2005
The EMO Hannover 2005 was attended by OneCNC Germany for the first time. In attendance was Uwe OneCNC Germany, Stephan OneCNC Germany, Neil OneCNC UK, Peter OneCNC UK, Bob OneCNC Australia and Ward from WMS USA.
At its 2005 staging (September 14 to 21), EMO Hannover has further extended its global leadership and reasserted its undisputed role as the most popular international meeting point for the World of Machine Tools. Over 160,000 trade visitors from 82 different countries lined up to explore all the latest trends and cutting-edge engineering advancements for the manufacturing industries, as showcased by some 2,000 exhibitors from 39 different nations.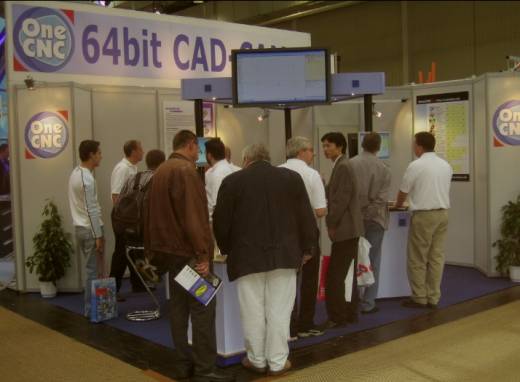 Neil OneCNC UK (left) is intrigued witth the OneCNCXR2 5 axis demo that Peter OneCNC UK (right) is creating.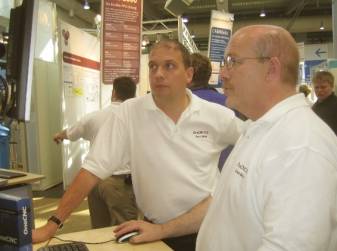 Here we see Uwe OneCNC Germany (right) demonstrating OneCNCXR2 5 axis. OneCNCXR2 5 axis was very popular at EMO 2005.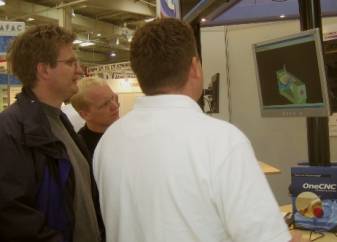 Here Uwe OneCNC Germany (center) with 2 customers that purchased OneCNCXR2 and 5 axis.
This is group assistance with Stephan OneCNC Germany (left) Peter OneCNC UK (Second left) Ward WMS USA (second right) and a customer (right and another customer hidden behind Stephan and Peter doing a combines OneCNCXR2 5 axis demo.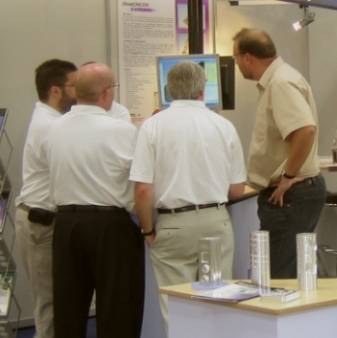 WESTEC 2005 Exposition
Apr 11 2005
The WESTEC 2005 Exposition & Conference, North America's largest annual metalworking and manufacturing event, was held at the Los Angeles Convention Center from April 04--April 07. Attendees had the opportunity to see the newest technologies and applications to make their operations leaner and more productive.
We had 19,284. people attend the show which has not yet returned to it's former glory. Michael OneCNC USA, Kanasha USA, Uwe Germany and Bob from OneCNC Australia together with OneCNC USA internal staff and Ward from WMS kept the demo's of OneCNC XR flowing.
Here we see Michael OneCNC USA (right) in discussion and demonstration of the OneCNCXR product range.
OneCNCXR Expert being the main product of the range was exhibited for the first time globally with the 4 axis and 5 axis multi-axis machining ability.
OneCNCXR firmly established OneCNC in the multi-axis environment with a fully dynamic viewable interaction of programming with Planes.
Here is a glimpse of the action from WESTEC2005
MACH2004 Birmingham UK
Apr 27 2004
The MACH2004 19-22 April 2004 exhibition had over 400 exhibitors and 21,000 visitors occupied an impressive 25,500 m2 of space. Showing the very latest metalcutting and metalforming machine tools, CAD/CAM, metrology, tooling, software, automation, robotics, welding and metal fabrication equipment. Much of this equipment was on show for the very first time.
As well as being able to see a wealth of products and technologies, new initiatives introduced this year enabled visitors to hear, first-hand, about leading-edge technologies, at the free seminars organised by MTA and sponsored by Metalworking Production and of course the ability to see OneCNC products.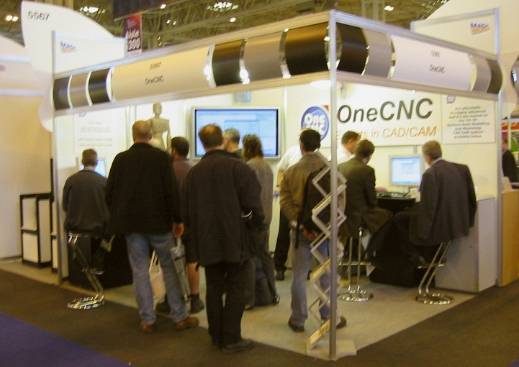 OneCNC UK exibited for the first time at the Mach2004 and was represnted by Neil OneCNC UK, Peter OneCNC UK, Uwe OneCNC Germany and Bob from OneCNC Australia.
Second from right is Uwe OneCNC Germany demonstrating the new features of OneCNCXP being shown for the first time. This was the first MACH show for OneCNC UK which is sure to become a tradition from here.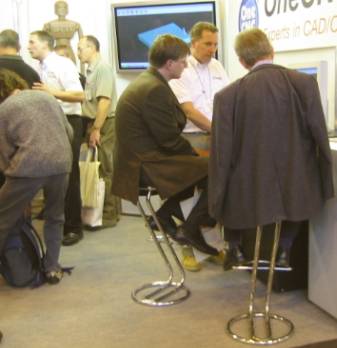 Here we see Peter OneCNC UK Technical director demonstrating the capabilities on OneCNCXP to a customer.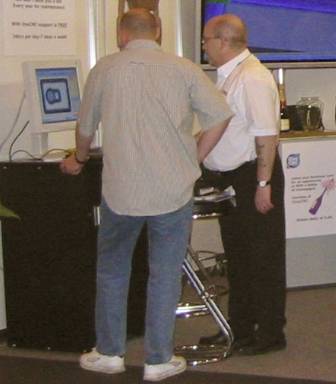 Round table discussion with Peter OneCNC UK (left) Uwe OneCNC Germany and Neil OneCNC UK making sure they have no missed any of the new features being demonstrated.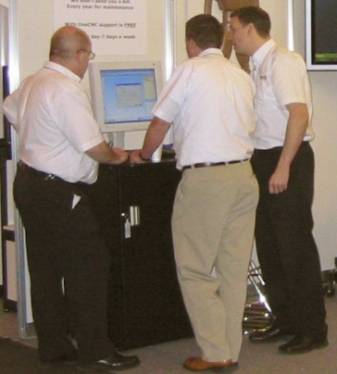 Here is a glimpse from MACH2004